Update from Superintendent Jon Sato
October 7, 2022
Cucamonga Christian Fellowship
11376 5th Street
Rancho Cucamonga, CA 91730
RE: Lead Appointment
Cucamonga Christian Fellowship,
I am writing to give you a brief update on the Lead Appointment Process for CCF. As you are aware, Pastor Fraser and Jo Anne transitioned from leadership to a national role within our denomination in May. However, even prior to their transition, we started our process of searching for candidates. Unfortunately, we did not have an appointment at their official transition date (May 1, 2022). Pastor Melanie Neilson and Pastor Janelle Coleman were gracious to step into interim leadership while we continued our search.
Our Ministerial Appointments Committee continues to meet, search, and interview candidates. To date, we have had discussions with over 20 candidates, and living into our Free Methodist values, we made sure that this candidate pool was diverse. Without getting into specific details, some candidates removed themselves from consideration, some candidates were removed after prayer and discussion, and some took other opportunities.
We are hopeful that we have new leadership that we can share with you soon, as we have recently interviewed what the Lord may have in store for CCF's leadership in this next season. Moving forward I have committed to giving regular meetings and updates to your delegates and will provide monthly updates to your leadership team to share publicly. Thank you again for your patience and grace during this season.
Please continue to join us in prayer.
Thank you,
Jon Sato
Superintendent, FMCSC
THE PROCESS FOR APPOINTING A NEW LEAD PASTOR
The Free Methodist Church USA seeks to love God, love people and make disciples. At Free Methodist churches around the nation, we see this vision lived out in powerful and unique ways, and Cucamonga Christian Fellowship (CCF) is no exception.
In Scripture, we read about Jesus calling the twelve disciples (or apostles) into the work of the ministry. After walking with Jesus, and being sent by him to preach the gospel message, teach Kingdom living, baptize and make disciples, the men and women who had come to know and worship Jesus as Lord also raised up leaders for the growing Christian community.
The process of allowing the Spirit to raise men and women to be ordained for ministry and appointed to serve in particular locations has its roots in the New Testament. This model of church governance and appointments form the core understanding of how the Free Methodist Church identifies and deploys pastoral leadership within communities and congregations.
Following are some simple questions and answers about the appointment system of the Free Methodist Church. As we follow these procedural guidelines in the process of searching for and appointing a new Lead Pastor to Cucamonga Christian Fellowship, we trust that this information will be helpful to you.
Q. Who appoints pastors?
A. The Ministerial Appointments Committee (MAC).
CCF is part of the Southern California Conference of the Free Methodist Church, which means those who have been nominated and appointed to the FMCSC Ministerial Appointments Committee will take the lead on vetting, interviewing, recommending and appointing our new Lead Pastor.
Learn more about the MAC here – https://fmcsc.org/boards/mac
Learn more about this part of our polity in our Book of Discipline (¶5220.D)
Q. How long are Pastors appointed to a congregation?
A. While the appointment can be indefinite, Pastors can also be reappointed at anytime based on the wisdom and discretion of the MAC. Each year, as part of preparations for the FMCSC Annual Conference, a comprehensive list of appointments is reviewed and finalized.
At CCF, we have been historically blessed with long appointments and our church has found great stability and consistency through the leadership of people like Pastor Fraser Venter (25 years) and Pastor Melanie Neilson (23+).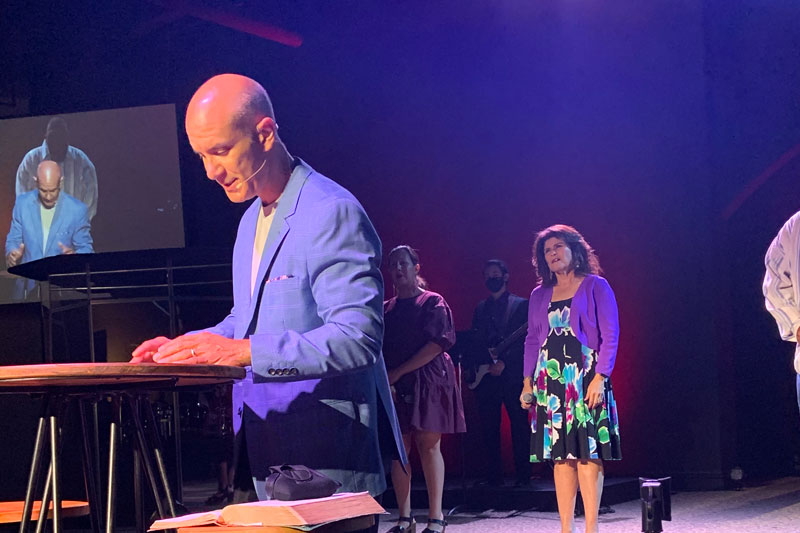 Q. What (and who) will give input to the decision of our new Lead Pastor?
A. The Executive Staff prepared a Local Church Profile (approved by the Servants Council) and provided it to the MAC for their search. This document gave an overview of CCF, and the core vision, values, history and other information that will be important for candidates to know when considering an application to become Lead Pastor.
The current Lead Pastor & FMCSC Superintendents also give input on the needs of the church, and any attributes that an ideal candidate would have for this ministry appointment.
As the MAC identifies a strong candidate, they will make their recommendation to those who serve as our Delegates to the FMCSC from among those serving on our Servants Council (church board) and key CCF lay leaders.
The candidate will then meet with our Servant Council as a whole, who would then provide feedback to the Superintendent via a brief survey, recommending that the MAC continues or discontinues their efforts to appoint the candidate as the new Lead Pastor of CCF.
Explore who our Servant Council & Delegates are – https://ccflive.org/team
Learn more about this part of our polity in our Book of Discipline (¶5220.E / ¶5800.E.2 / ¶5800.C)
Q. What are some considerations that influence the decision of the MAC on the candidate that they will recommend?
A. It is important to know that the MAC always desires this to be a successful and smooth process. An important part of the process is ensuring that they do not appoint a pastor that does not want to come to a specific church, or appoint a pastor that the church (by representation through the board and delegates) does not want to have appointed there. Key factors that will be considered are:
Needs of the Kingdom of God
Needs of the community
Pastor's gifts/emphasis (preaching, evangelism, administration etc)
Needs of the church
Perspective of the conference Superintendents
Church/Pastor personality match
Pastor's family needs (children's ages, schooling etc)
Evaluation of Board (Servants Council)
Evaluation of Delegates
Growth patterns of the church & various ministries
Financial trends of the church
Perspective of MAC
Professional history of Pastor
Local Church Profile (document)
Community perspective of the church
Opinion/wishes of Pastor's spouse (if applicable)
Relationship/cooperation of Pastor with Peers, Conference & Denomination
HOW YOU CAN BE PRAYING
PRAYERS FOR THE PROCESS
We believe that God has amazing things in store for our church, as we continue to be a place to connect under the leadership of someone new. Please be praying that the MAC, the Superintendents, our Delegates and Servants Council would have wisdom in choosing who that person will be.
PRAYERS FOR OUR CCF FAMILY
We are grateful for the incredible leadership team at CCF (staff & board) and for our Interim Lead, Pastor Melanie Neilson. Please be praying that our CCF family will stay engaged, through attending, serving, giving and being in church community.
PRAYERS FOR THE VENTERS
Please join us in praying for Pastor Fraser, JoAnne, and their family as they navigate their new season. Please visit ccflive.org/venter for the opportunity to partner in what God is going to do next through Pastor Fraser.
In 1997, Pastor Fraser Venter accepted a ministry appointment from the Free Methodist Denomination of Southern California to be Lead Pastor of a church called Cucamonga Christian Fellowship (CCF). Here, from the pulpit to the prayer closet and everywhere in between, Pastor Fraser & JoAnne Venter loved and led this church family in remarkable ways.
After prayerfully considering what God has in the season ahead, 2022 marked the time to begin the transition into a new chapter and a new season, particularly when it comes to the leadership of CCF. While the Venters have officially begun their new chapter, we are still in the process of finding, interviewing, and approving an applicant.
Take some time to listen to a video from Venters, when they shared their hearts about this update on what is next for them, and for our CCF family. And continue to join us in praying for all that God will do in and through us as we prepare for a new Lead Pastor.